OUR PASSION, FRANCE
OUR MISSION, THE WORLD
AN EXEMPLARY NETWORK
4,500 businesswomen and men and experts in the international domain promoting France's development for more than 120 years. Present in every region of France and in more than 150 countries.
The Conseillers du Commerce extérieur de la France (French Foreign Trade Advisors or CCEs) voluntarily share their experience working for the development of France. They carry out concrete actions on a daily basis in partnership with public and private players who have a role in promoting and supporting the internationalisation of French companies. Appointed by the Prime Minister, CCEs are vested with four missions by public authorities.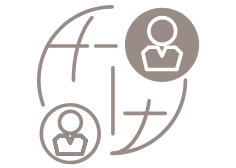 OUR FOUR MISSIONS
ADVISING PUBLIC AUTHORITIES

CCEs inform decisions by public authorities through their regular participation in strategic council meetings of the government and regions and with foreign embassies to which they forward their analyses, opinions and recommendations on international trade or specific market issues.

SUPPORTING BUSINESSES

CCEs support businesses in their international development through the long-term monitoring of structured projects or in a more limited fashion through operational advice or the facilitation of relationships. CCEs also contribute to the modernisation of the support mechanism for foreign trade.

TRAINING YOUNG PEOPLE FOR THE INTERNATIONAL STAGE

CCEs raise young people's international awareness by relating their experiences at higher education institutions or by sharing know-how in the context of specific actions.

PROMOTING THE ATTRACTIVENESS OF FRANCE

CCEs promote France's assets and facilitate investment decisions across France through contacts they enjoy with business leaders and economic authorities in the countries where they operate.
150 COUNTRIES

4500 CCEs WORLDWIDE

150 MENTORING LEAD CONSULTANTS WORLDWIDE

290 PARTNERING EDUCATIONAL ESTABLISHMENTS
AN EXTENSIVE RANGE OF VOLUNTEER ACTIONS
Participation in a range of economic advisory bodies, at the ministerial level, in the regions and at foreign embassies.
Commissioning of surveys, the publication of memorandums and recommendations.
Organisation of seminars, forums and symposiums.
Mentoring SMEs internationally.
Supporting the development of the V.I.E. mechanism (Volunteering for International Experience).
Coaching and promoting awareness with young people about international careers.